Alignment
Jump to navigation
Jump to search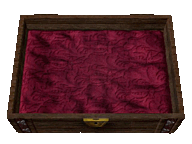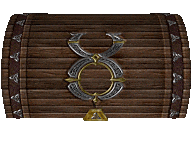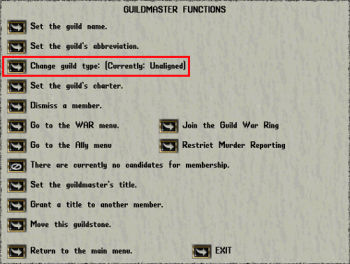 Alignment
The Alignment system is designed to assist in PvP and RP. It is a guild-based notoriety system for guildmasters to align with certain NPC factions. Once aligned, you will flag as an enemy (orange) worldwide to members of all opposing alignments. Like-aligned players will not be flagged ally (green) unless they are in the same guild or an allied guild. Like-aligned NPC mobs will appear green, as they are your allies and will not attack you.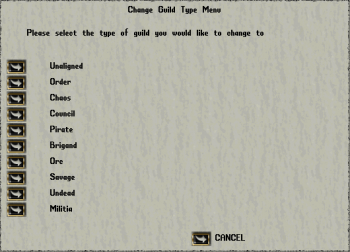 There are 9 Alignments to choose from:
Order
Chaos
Brigand
Counsel
Militia
Orc
Pirate
Savage
Undead
Note that after setting your Alignment, you must wait 7 earth days to change your Alignment status again.
Cross Healing
While your character is aligned to any of the above, only other player characters sharing your alignment will be able to perform beneficial actions on you.
NPC Factions
Order
Order Knights of Lord British's castle.
Chaos
Chaos Knights of Lord Blackthorne's castle.
Council
Lich
Lich Lord
Evil Mage
Evil Mage Lord
Council Member
Council Elder
Lord/Lady Guardian
Ancient Lich

Brigand
Brigand
Brigand Archer
Brigand Leader

Militia
Militia Cannoneer
Militia Fighter
Militia Guard
Ranger
Paladin

Pirate
Pirate
Pirate Deckhand
Pirate Wench
Pirate Captain

Savage
Savage
Savage Shaman
Savage Rider
Savage Witch Doctor

Undead
Skeleton
Zombie
Mummie
Spectre
Bogle
Wraith
Wraith Riders
Bone Knight
Bone Knight Lord
Bone Magi
Bone Magi Lord

Orc
Orcs
Orc Mages
Orc Lords
Orc Captain
Orcish Brute